The Goldline Story – Volvo makes a comeback contributed by Will Hughes

After receiving the two batches of Scania K94/Irizar Intercentury vehicles for the "Goldline" fleet, it came as something of a surprise when the next order for "Goldline" coaches was announced as being 20 Volvo B10B with Sunsundegui Sideral 2000 C53FL bodies. They were the first vehicles to be supplied to Ulsterbus with the Spanish Sunsundegui body and were also the first coaches in the fleet to make provision for the carriage of wheelchair passengers.

Fleet numbers allocated were 1767 – 86 and they were registered REZ 9767 – 86. They were new in 2/08 (1769/71/2), 3/08 (1767/8/81), 4/08 (1770/3-80/2-4/6) or 5/08 (1785) and initial allocations were Great Victoria Street [V] 1767 – 71, Downpatrick [DP] 1772/3/83, Coleraine [CL] 1774/5, Omagh [OM] 1776/7, Londonderry [LD] 1778 – 80/5, Armagh [AM] 1781/2 and Enniskillen [E] 1784/6.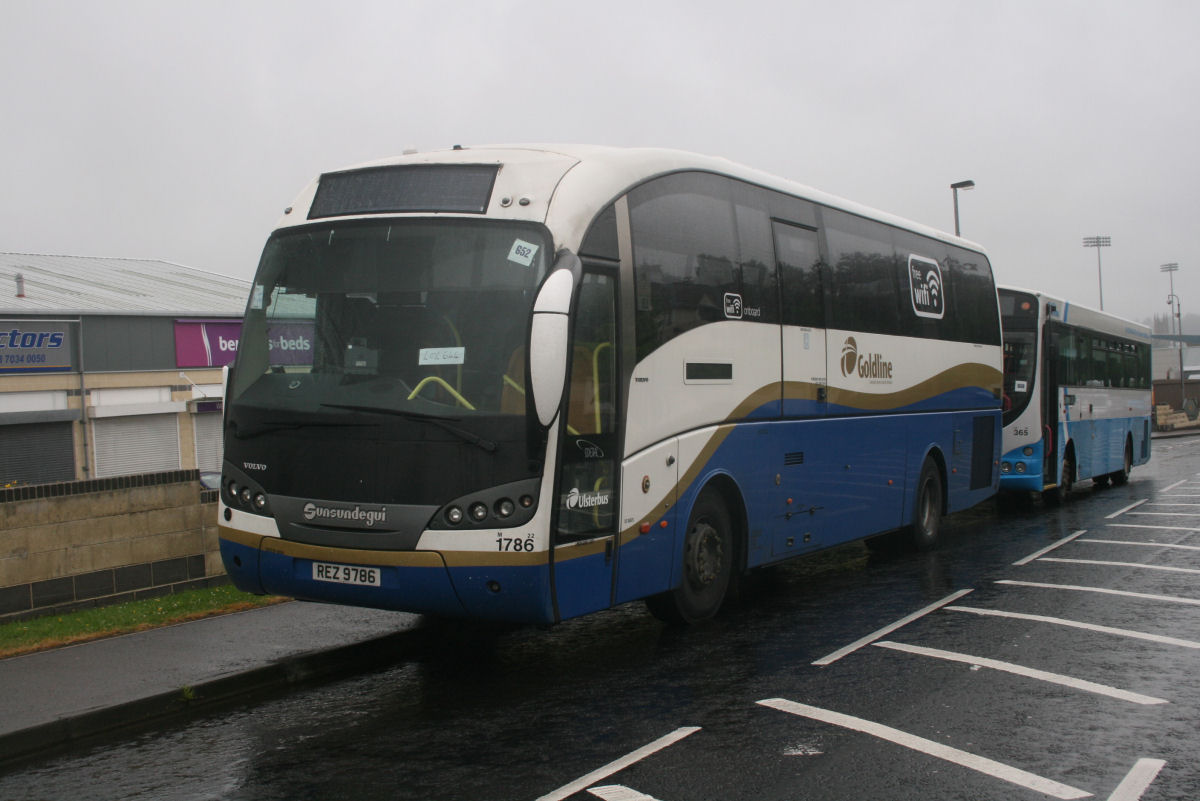 1786 (REZ 9786) seen here at Coleraine on 13/7/15 whilst on a private hire connected with the annual 12th July demonstrations. © Will Hughes

The wheelchair space was accessed by way of the additional hinged door situated behind the front nearside wheel arch using a retractable underfloor mounted wheelchair lift.

In 2012 fourteen of the batch were hired to Stagecoach Events, London for use at the London Olympics, 1772 – 4/6 – 86. They were allocated Stagecoach fleet numbers 81772 – 4/6 – 86 and all had to have local branding removed before departing for London. The contract commenced on 6/7/12 and ran until 17/9/12 when the vehicles returned to Northern Ireland.

These have without doubt proved to be extremely popular and reliable vehicles, accumulating huge mileages in their eleven years of front line service. In 2018 it was decided to give them major life extension overhauls which included major chassis, body and mechanical attention but also included the fitting of leather seating incorporating USB ports for Wi-Fi.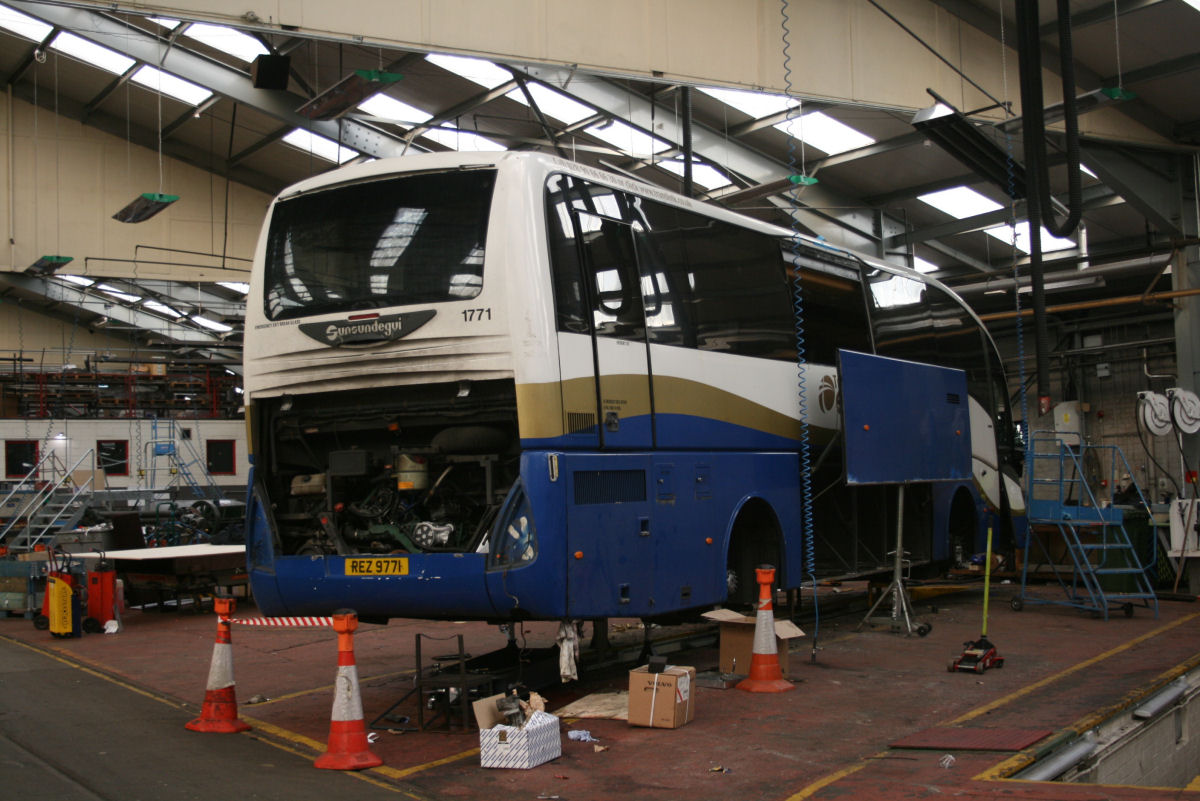 1771 (REZ 9771) seen undergoing its major life extension overhaul at the Citybus Falls Park workshops on 29/9/18. © Will Hughes

A further four vehicles were ordered at the same time for use by the tour pool. This time the chassis chosen was the mid-engine Volvo B12M fitted with Sunsundegui Sideral 2000 C48FT bodies. Fleet numbers allocated were 124 – 7 and they were to receive the "cherished" registrations IXI 1000/1 and LXI 1100/11 which were transferred from Alexander (Belfast) "N" type Leyland Tigers. In the event all four were rejected by Ulsterbus and never taken into stock following problems getting them certified for use in Northern Ireland. It is believed that their gross unladen weight exceeded that permitted for two axle coaches in Northern Ireland. All were returned to Volvo and after modifications they were eventually sold on the mainland private operators. One did eventually see use in Northern Ireland when it was sold to a local private operator.